THE ZFT - ZAPPA PLAYS ZAPPA - SOME TRIBUTES
THE ZAPPA FAMILY TRUST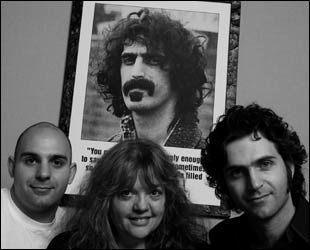 This trust, run by Zappa's wife Gail till 2015, is administering all Zappa business. Since 2012 it also includes the entire CD catalogue (formerly part of the Rykodisc catalogue). It encompasses selling scores and videos, granting permissions to play the scores in public and controlling the tape archive. Ever since Zappa's death, fans have been lobbying for more releases from the tapes. The Zappa Family Trust policy started as quite moderate at first, but in the last decade they are turning up the pace of new releases. Their issues are sometimes only available via the www.zappa.com site, others also reach the record stores. They are listed under the CDs and scores section. On the photo from left to right: Ahmet, Gail and Dweezil Zappa (source Nobel PR Ltd, used by permission).
Gail Zappa died in 2015 with a message by the ZFT that one of the biggest "bad-asses" in rock business had gone, referring to the reputation she had built up. There are indeed positive and lesser things, that has made her status among fans full of mixed feelings:
- Some 40 CDs have been released by the ZFT. Ten contain official material by Zappa himself. Twenty, mostly live recordings, are completing the Zappa catalogue quite well. A dozen other CDs can be seen as archive releases with a musical contribution that varies between superfluous and acceptable. It can be recommendable to look up what's on them first. In my opinion their average value is that they are of interest, implicitly acknowledged by the inclusion of examples from most of these CDs in my study.
- During Zappa's life his orchestral and chamber music scores could be obtained by mail order. Around 2000, when I started this study, this didn't function anymore. Scores became available for rent only for ensembles who wanted to play Zappa's music. A permission to perform his music is normally granted, but the conditions can be harder than average and a permission to release a performance on CD is seldom given. Of course the ZFT has a right to collect their royalties, but it's a feature of classical music that anyone can buy, perform and release it uninhibitedly. I think this is getting in the way of Zappa becoming classic.

In her will Gail appointed Ahmet Zappa to take the lead in administering the ZFT business. Afterwards it became clear that also within the Zappa family differences of opinion already existed for some time about how their business should be run.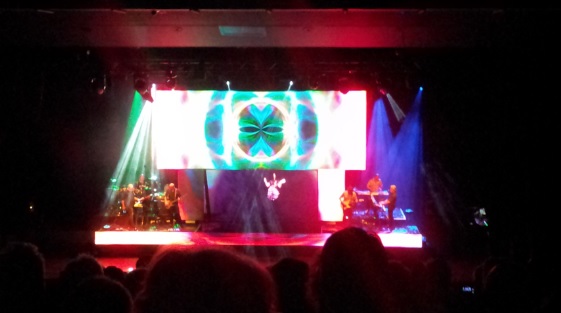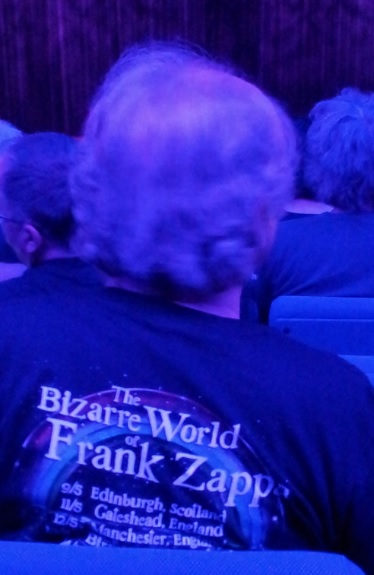 Ahmet is continuing with augmenting the Zappa catalogue with an accent upon mass releases of live material. For 2019 Ahmet organized the Bizarre world of Frank Zappa tour with Zappa himself being present in the shape of a hologram, next to original band members from the seventies and eighties. Above: photos of this event taking place at The RAI theatre, Amsterdam, Holland.
(DWEEZIL) ZAPPA PLAYS ZAPPA, 2006-2019
Dweezil Zappa has been holding American, European and Australian tours playing his father's music, spread out over the years 2006-2019. In Europe the band started on May 15th 2006 in the Heineken Music Hall, Amsterdam, Holland. Visit www.dweezilzappa.com for the bands schedule, photos and videos. I first visited the 2006 concert at the Heineken music hall in Amsterdam, Holland, as well as various more recent concerts, and I find them much recommendable. The band varies during time regarding participants. They have a large repertoire, showing guts by including the difficult pieces too.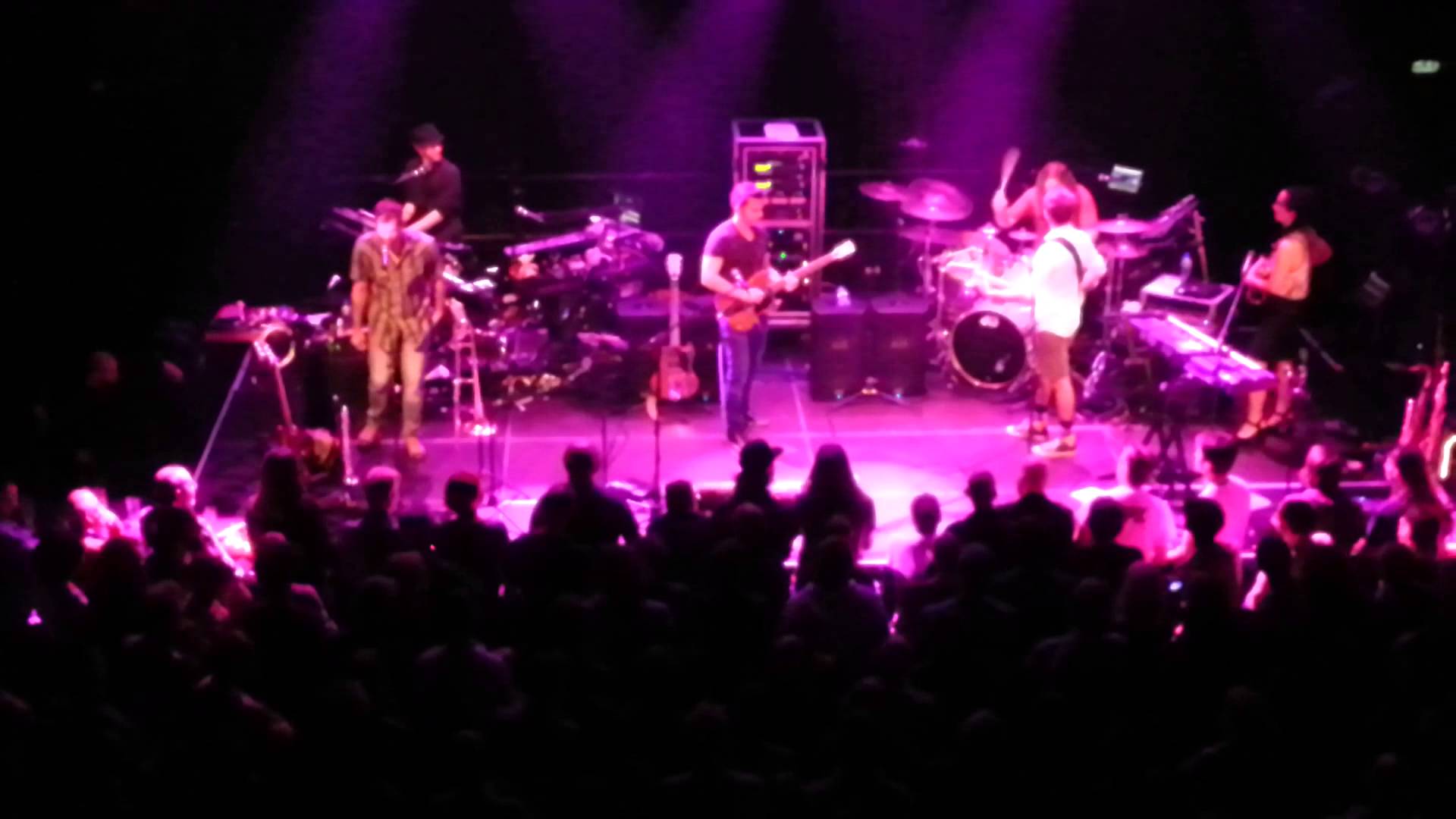 Next is a quote from one of their press releases:

"In concept and performance, Zappa Plays Zappa offers audiences an opportunity to spend an evening with Frank Zappa's music, performed meticulously by a group of top flight musicians who have been schooled in its subtleties. Far from a "tribute band," Zappa Plays Zappa is more of a vehicle that underscores the compositional genius of Frank Zappa much as a symphony orchestra would perform pieces by a master composer. Nate Chenen, writing about Zappa Plays Zappa in the New York Times recognized this when he wrote that the show fully realized Dweezil's intent for it to be "an argument for Frank Zappa's legitimacy as a composer".
Zappa Plays Zappa is an undertaking with a higher purpose in mind beyond filling seats with concert goers. Dweezil Zappa explains, "I think my Dad's music deserves to be heard by a wider audience. I really think he's been misunderstood for far too long, which brings me back to why I'm doing this: I'm so in awe of his accomplishments and want more and more people to know about him, and I think the best way for people to first discover his music is on a visceral level in a live situation. I think you have to be confronted with the complexity and the beautiful subtlety of all of it to fully appreciate the artistry of it."

Dweezil Zappa also started a class, Dweezilla. A new music boot camp is planned for 2019.


TRIBUTE BANDS AND EVENTS
Project/Object tours

Project/object is the name of a Zappa tribute band set up the nineties, at various instances including former members from Zappa's own bands. Recently they featured Ike Willis and Ray White performing together again. Visit Project/Object for the tour program and the latest dates. Next is a quote from their site: "Project/Object formed in the early '90s as an offshoot from an annual Frank Zappa birthday celebration that took place in guitarist Andre Cholmondeley's basement in New Jersey. As the event grew in size and popularity, Project/Object decided to take their show on the road, performing Zappa's music in more cities and larger venues, with a growing set list from every era of Zappa's 30-year recording career. The band strives to stay true to Frank's vision of constantly challenging the musicians and the audiences."
Zappanale Festival, Germany

In Germany a yearly event is organised commemorating Frank Zappa. Visit Zappanale for their current program as well as photos of all past events.
The Grande Mothers re:invented

Don Preston, Roy Estrada and Napoleon Murphy Brock have been touring with various bands. Visit FZ Alumni for their band under the name Grande Mothers. More about the band's history can be found at United Mutations.
Corrie van Binsbergen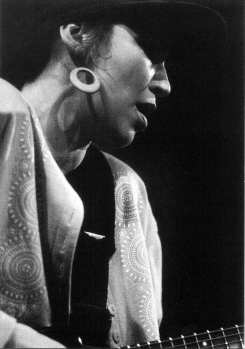 The interest by musicians in playing Zappa's music is ongoing, by tribute bands as well as by classical ensembles. Due to his illness in 1993 Zappa was forced to refrain from visiting the "Zappa's universe" shows with many of his former band members participating. An audacious attempt at a tribute has been done by Corrie van Binsbergen, who wrote original material in the style of her admired composer.
Corrie, a Dutch jazz composer and bandleader, included a tribute to Zappa in her 1997 album "Corrie en de grote brokken" (in English "Corrie and the big lumps"). It's a suite of five compositions, "Zoot-Suit I" through "V". In this page I've transcribed the first half minute of "Zoot-Suit I". The reminiscence of Zappa is intentional and well done. It starts with a variation upon the "Ich bin deine Tage und Nächte" theme from "Sofa" (German for "I am your days and nights"). In this study the "Zappa in New York" version of this melody is transcribed as the second guitar theme in the "Sofa" example from the Counterpoint subpage. The movement through various keys, the use of strings of fast notes are remindful of Zappa, as well as a harmonic surprise effect. In bar 3 the melody ends with G going to D. You might expect this to return in bars 8 and 9, but here the G moves to a 9th chord, E flat plus F and B flat. The instrumentation, especially the use of vibes, are also Zappa-stylish.

Zoot-Suit I, opening (midi file).

Zoot-Suit I, opening (transcription).

For further information about Corrie van Binsbergen you can visit her site, corrievanbinsbergen.com. The photo above of Corrie van Binsbergen is copied from an earlier version of this site, source unknown.


HOLLAND FESTIVAL 2000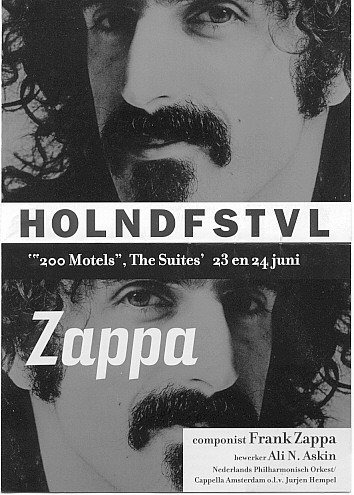 After the 1981 debacle, when negotiations failed and ended with a malcontent Zappa, the board of the Dutch Holland Festival returned to the idea of making Zappa the central composer of the festival in 2000. This time the Zappa business was handled by Gail Zappa and things could get realized. The festival program parts about Zappa consisted of six concerts and events. Three are commented upon below. The other evenings dealt with films, lectures and "Civilisation, phaze III". All performances took place in Amsterdam, Holland.

I) 200 Motels, the suites.

200 Motels, the suites, was reassembled by Zappa's earlier assistent Ali N. Askin at the request of Gail Zappa. It could be made up from the archives with the pieces meant for a live performance by The London Philharmonic Orchestra in 1971. About 80% coincides with the 1971 album version of 200 Motels. The other 20% is unreleased. The set up of 200 Motels, the suites, is:

- Overture
- We're on the road
- Centerville
- Tuna sandwich suite
- The restaurant scene
- Touring can make you crazy
- What's the name of your group?
- Can I help you with this dummy?
- The pleated gazelle
- I'm stealing the room
- Shove it right in
- Penis dimension
- Strictly genteel

The unreleased material deals with a groupie, adressing herself to the audiance. She's asking if she can take a polaroid picture and then continues confessing that she likes masturbating with the aid of a dummy. "Can I help you with this dummy?" is about the girl being sexually excited by the dummy, while a certain Rance first asks if he can help. Later on Rance gets disgraced as he understands what the girl was doing, while she's trying to apologize. The score was first published in the The Frank Zappa Songbook from 1973. Zappa comments: "Can I help you..." was originally scheduled for use in 200 Motels but was excluded due to technical difficulties beyond...".
200 Motels, the suites, was premiered on June 23 in the Carré theatre, with a second concert on June 24 (flyer above, there's no information about the image designer on it). It was performed by the Dutch Philharmonic Orchestra and the Amsterdam Capella choir with Jurjen Hempel conducting.

II) A tribute to Frank Zappa

Bruce Fowler arranged a series of Zappa compositions for the Metropole Orchestra for a concert in the Paradiso. Bruce Fowler was the trombone player in Zappa's band from 1972 to 1975 and returned in the brass section of the 1988 band.
On the program were among others "The grand wazoo", "Duke of prunes", "Regyptian strut", "Big swifty", "Edchina's arf (of you)" and "Don't you ever wash that thing".

III) Greggery Peccary & Other persuasions

The Ensemble Modern made a short tour with a sequel to "The yellow shark" in 2000. Concerts were held in Germany and the Ensemble visited the Holland Festival as well. The Zappa Family Trust cooperators Ali N. Askin and Todd Yvega delivered the scores and rearranged them for the ensemble.
The concert included "The adventures of Greggery Peccary", "The black page", "Dental Hygiena Dilemma" and "The dangerous kitchen". In total twelve compositions were played in the Concertgebouw. It was the third time that Zappa got played in this famous Dutch concerthall. The Ensemble Modern had earlier made a guest appearance with material from "The yellow shark". In 1999 the Asko Ensemble had played Zappa's music as part of the American Adventures program. On June 25 1999 five of Zappa's modern pieces were performed, along with compositions by Conlon Nancarrow, Charles Ives and Edgar Varèse.
DOCUMENTARIES BY FRANK SCHEFFER AND VPRO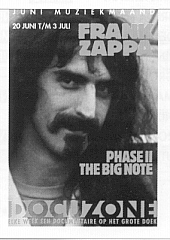 Frank Scheffer is a Dutch documentary and filmmaker with a special interest in music. He's made a trilogy about the composers Mahler, Louis Andriessen and Zappa. The Zappa documentary has been presented in two forms that don't overlap completely.
The first one of 60 minutes, "Phase I, the present composer refuses to die", was broadcasted by VPRO on Dutch tv in 2000. The second edition of 2002, "Phase II, the big note", was shown in cinemas. It lasted 90 minutes, mostly an extended version of the tv documentary, but not everything returned.
Subjects coming by are Zappa's guest appearance in a 1962 Steve Allen show (where he played on a bicycle), an Australia tv interview with Zappa conducting the audiance, a visit of the tape vault, looking for Zappa's teenage home, where he used to play with Don van Vliet, and many more. The image is from the DocuZone flyer, advertising the film; it has no credit information.
In April 2007 the Dutch TV broadcasting entity VPRO has once more been coming out with documentaries about Zappa. The Frank Scheffer material reached the set in two episodes of an hour each. They were also behind the TV special from 1970 about the making of 200 Motels, that caused some rumour in Dutch parliament. In the special Zappa demonstrated the use of a vacuum cleaner for "stimulating pies" and made no secret of his fondness of groupies, while being married.
Back to the menu