ON THE SHELVES
As massive as Zappa's available output may look, there is still an amount of material that at this moment is hard to get. This section mentions the better known works, currently unavailable on CD or DVD or in the form of a book. It deals with officially released music, broadcast shows and tv appearances, material intended for release and music otherwise distributed by Zappa himself. The list could be extended with songs as Solitude, only known via bootleg recordings. At the beginning of his career he was much keen on having his music performed and released. He also would accept less ideal circumstances. Towards the end this became to change. He left various open ends behind at the time of his death, specifically as it comes to his modern music. He could have commissioned a digital execution of Sinister Footwear or he might have released the existing performance nevertheless with as a footnote that it is no more than a demo of what the score intends. The ZFT since then hasn't shown much eagerness in playing all their trump cards at once. Dance me this got released as late as over twenty years after its completion.


Sheet music with no (complete) performances in the official CD catalogue.

- Sinister Footwear.
A major three part orchestral work, of which half has been released in rock band versions. Its only 1984 performance by the Berkeley Symphony Orchestra wasn't found good enough by Zappa for release on record. Its complete orchestral score can be ordered and it exists as well in the form of piano reductions. Among fans it's mostly known via the Apocrypha bootleg of the 1984 premiere, today also legally available as part of the Beat the boots III series.

- None of the above.
None of the above was originally a four part string quartet, written for the Kronos Quartet. They are the only ones who played this work in its entirety (1985). Thanks to zappateers.com for the description below of None of the above. For the Yellow shark album by the Ensemble Modern two of the four movements got reworked upon for string quintet. III revised is thus its third movement. None of the above must be its first movement, seen the duration times. Possibly Questi cazzi di piccione stems from this quartet as well.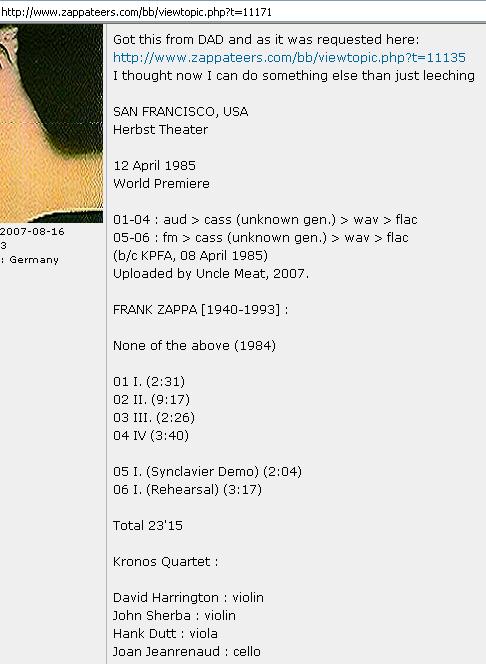 Topic from Zappateers.com.

- Times Beach.
Times Beach is another piece of chamber music that got premiered in 1985, this time by the Aspen Wind Quintet. Thanks to nytimes.com for the review below of Times Beach. Originally it was a five movements wind quintet, of which one part appeared to be unplayable at the time. Two of its movements got revised for wind sextet. In this form they appeared on the Yellow shark CD.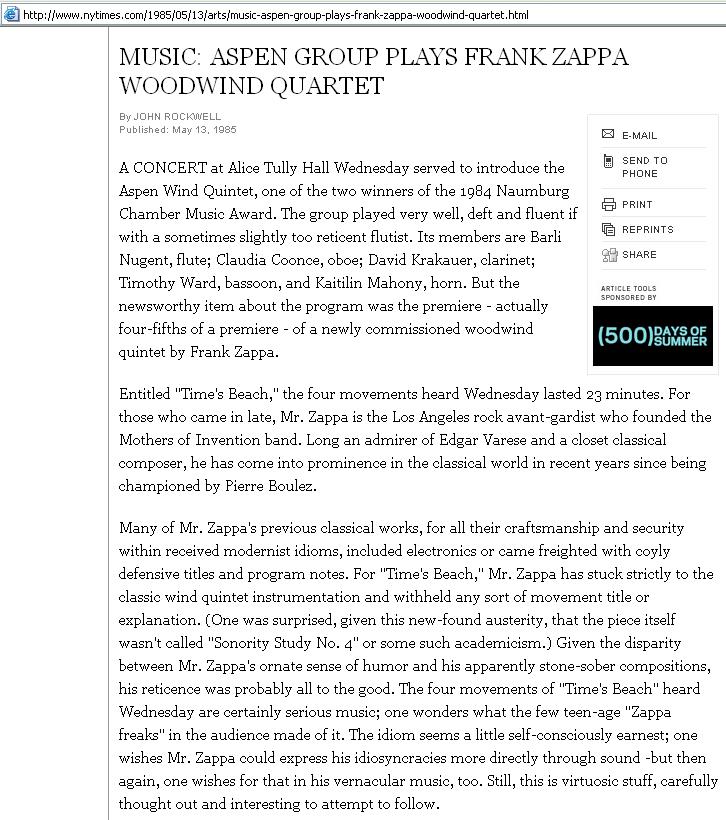 Review from the NY Times.

- Some ballet music.
A piece of modern music that the Mothers played live during their 1968 tour. It is only known via the The Ark bootleg from the Beat the boots series. Seen its nature it must exist on paper. It also must have taken some effort to learn to play this piece, so it's strange Zappa didn't include it on an official album. Adapted and re-orchestrated sections got included in "Greggery peccary".

- Mo' mama.
This is a solo Zappa once thought about for releasing. Steve Vai liked it enough to transcribe it for the Guitar Book. Rightly so, when you play it from paper.

- Various smaller works.
a) Waltz for guitar. An early academic 12-tone piece of one page.
b) Wind quintet. Included in the Prophetic attitude CD by the Concert Inpromptu & Bossini (1997). A little work of 42 seconds with the quintet playing in parallels. It's not related to Times Beach.
c) Number 6. A piece of chamber music, premiered on the same CD.
d) Number 7. Another work for chamber ensemble, included in the Omnibus Wind Ensemble CD with music by Zappa from 1985.
e) What will Rumi do? Released on the Greggery Peccary and other persuasions CD by the Ensemble Modern.
f) Pentagon Afternoon. In the Yellow shark liner notes Peter Rundell mentions that the released section is only a part of the total they had rehearsed.


Singles and albums, (currently) unavailable or still waiting to be released in the official CD catalogue.

- The Cucamonga years singles.
Once his career got ahead, Zappa was hardly interested no more in the dozen of singles he wrote or co-wrote from the Cucamonga period. The Mothers had Memories of El Monte on their setlist at the beginning and returned to Love of my life later on. These singles got some re-releases on CD by smaller labels, though never in a complete form.

- Beat the boots I-II.
In this case the edition was intentionally limited. This series of 15 (semi-)officially released bootlegs was meant for taking over the better part of the turnover from the bootleg market and has served its purpose. The few new bootleg collectors still not having them will get copies anyway.

- Smaller sections of music.
a) I was a teenage maltshop demo. Though only a demo (today part of Beat the boots III), it does contain a few minutes of otherwise unreleased music, that Zappa at that point intended for release. The project got declined.
b) Willie the pimp, part II (1971). This section was part of the Fillmore East album and got skipped for the CD version. It had the end of the solo with Zappa using the wah-wah pedal. It re-surfaced with the ZFT re-releases.
c) Junier Mintz boogie. A guitar solo used as b-side for the Tears began to fall single. In 2022 included in the ZFT release "The Mothers, 1971".
d) The guitar world according to Frank Zappa. A promotional cassette preceding the release of Guitar. It contains a minute or two of soloing that eventually got left out for the shorter definitive edits on the CD.
e) The black page, synclavier version. An extra that came along with an article in Keyboard player, in the form of a flexi single.

- Songwriting contributions by Zappa on other artists' albums.
a) Would you like a snack? Co-written with Grace Slick for Jefferson airplane loves you (different from the 200 Motels' song with this title).
b) If I could only be your love again. Written for For real by Ruben and the jets.
c) No more Mr. nice girl. Co-written with L. Shankar for Touch me there.
d) Improvisation in A with Frank Zappa. A solo for the Adieu CA album by Prazsky Vyber.





Scripts and books, that are out of print.

- Captain Beefheart versus the Grunt People.
A filmscript Zappa completed in 1969. He tried to sell it to movie companies, without success. Some typed-out copies circulate.

- The Frank Zappa songbook vol. I.
Books seldom stay on the market once their initial editions are sold out. The market left doesn't outweigh the costs of reprints and keeping them in stock. This also happened to the songbook from 1973. This doesn't mean it's less valuable. It represented an excellent selection of works from Freak Out till 200 Motels, combining both accessible material and complex songs. Most scores were piano arrangements by Ian Underwood, some were the original scores by Zappa, including some orchestra sheets.

- The Frank Zappa guitar book.
This large collection of guitar solo transcriptions by Steve Vai is also by long out of print. It contained 22 guitar solos from Zoot allures to Shut up 'n play yer guitar with the accent on the latter one.

- Them or us, the book.
The first of two books Zappa wrote. This one was only available via mail order at Zappa's own company. Today it can be ordered on-line. See the Them or us section at Planet of my dreams for the details and its content.


Videos, yet to be re-released on DVD.

The following videos have been available for years and still are easily obtainable via eBay for those owning a video player. Some private persons are using the opportunity by selling transfers to DVD format behind the counter, as long as they are not officially re-released on DVD.
- The world's greatest sinner (soundtrack by Zappa).
- Run home, slow (idem).
- Burnt weeny sandwich (a short film, only shown on some occasions, no video release).
- Uncle Meat.
- 200 Motels.
- The true story of 200 Motels.
- Video from hell.
- The amazing Mr. Bickford.


Broadcast shows and tv appearances.

There's a large number of performances by Zappa on radio or TV. For outsiders it's mostly impossible to know who has the rights of putting it on a CD or DVD. There are two instances where Zappa made a deal to release broadcast material himself. He used a VPRO documentary for The true story of 200 Motels. The MTV concert became part of the Dub room special video and the The torture never stops DVD by the ZFT. Copies of many TV appearances circulate among fans and can be found on youtube.com. In some cases bootlegs were made based upon such material. There are nowadays various DVDs available, whether legal or not.

Some of the better known broadcast music:
- Bicycle for two (1963). Zappa's appearance on the Steve Allen show. This was more a big joke.
- Mount St. Mary concert (1963). The whole concert of about one hour got broadcast on radio. A fan send Zappa a private copy (the original tape hasn't been kept), from which he selected an excerpt for The lost episodes.
- Stockholm concert (1967). A radio show from which the 'Tis the season to be jelly bootleg was taken.
- Paris concert (1971). This one partially overlaps with the Disconnected synapsis bootleg.
- Stockholm concert (1973). A TV appearance from which the Piquantique bootleg was taken.
- Saturday night live (1976 and 1978). Zappa was two times the main guest, performing a couple of songs with his band.
- We don't mess around (1978). A larger tv appearance with footage from two concerts in Germany. One of them corresponds with the At the circus bootleg.
- Live from Palais des sports, Paris (1980). A concert broadcast on French tv.
- Live form Barcelona (1988). A concert by the 1988 band on Spanish tv.
- The Valdez score/Outrage at Valdez (1990). A documentary and radio broadcast with a fifteen minute synclavier work.
- Peefeeyatko. A German documentary about Zappa working on the synclavier about 1990. You can hear various sections of his synclavier music from that time, both in the background and in the foreground.
- AAAFNRAA (1992). The Ensemble Modern rehearsing with Zappa in L.A. The music corresponds with the EIHN CD by the ZFT.
- The yellow shark (1992). A tv registration of one of the Yellow shark concert. Only the intro can't be found on the later Yellow shark CD, but it would be nice for an official DVD.
- Ein Leben wie ein Extravaganza (1994). A documentary on German tv with some footage from his visit to Eastern Europe.