ZAPPA IN NEW YORK: IRREGULAR RHYTHMIC GROUPINGS
While 1971 ended with physical disaster, 1977 saw the start of litigational warfare, with Zappa's main business associates becoming his enemies. The relationship with his record company Warner Brothers had become under strain and Zappa wanted to end his contractual obligations by delivering the tapes for the four records he was still due at once. But Warner Bros. refused to pay the agreed advances for these records at one time, nor did they set off releasing them in time. A lasting lawsuit followed, interacting with the running lawsuit about Discreet with Cohen, since Discreet was a label of Warner Bros.
Subsequently Zappa went negotiating a new contract for releasing this material, now in the form of a four record set called "Läther". In October 1977, when the first "Läther" boxes already had been pressed, Warner Bros. decided to release the material handed over to them anyway as the originally planned individual records, one live album "Zappa in New York", and three studio albums "Studio Tan", "Sleep Dirt" and "Orchestral Favourites". For "Zappa in New York" Zappa had handed over the material for the album cover, but there was no cooperation whatsoever for the studio albums. They were released in a sloppy way with low budget cartoon covers and no promotion. It enraged Zappa and he publicly uttered his anger with setting up a "Warner Bros. sucks" banner on stage and stating the same on record. Squeezing out a contract once the relationship is ended is regrettably common practice in rock business though and things far worse have happened to other artists. In 1997 the "Läther" version collection was released on three CDs. Unfortunately these issues don't overlap for 100%, so you still have to buy them both to be complete. The lawsuits were mainly settled behind closed doors, when Zappa was given the opportunity to buy the copyrights from Warner Bros. and the mastertapes of his recordings were handed over to him in 1982. It led to a unique situation, where a well-known rock musician became completely in control over his business.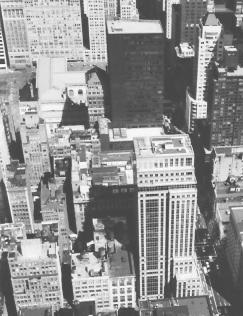 Zappa loved playing in New York and rented an apartment there from 1967 to 1968, when he recorded a vast amount of music for "We're only in it for the money" through "Uncle meat". His return to L.A. was financially motivated. Various live albums were recorded in New York and the yearly concerts around Halloween became famous for the interaction with the crowd. More about this in the next "Baby snakes" section.

Midtown New York (photo KS). The Palladium was a famous disco in downtown New York. Zappa used quite a lot of tracks recorded in its concert hall, because the big cities had the better recording equipment for rent. In the eighties Zappa would buy his own mobile studio truck. In the nineties the heyday of the Palladium came to an end when it made place for student apartment buildings.

ZAPPA IN NEW YORK, PALLADIUM, DECEMBER 1976.

We'll take "Zappa in New York" and some other albums to look at examples of Zappa's appetite for rhythmic variation. His desire for rhythmic diversity is very persistent in his music. The early "Run home slow theme" from the movies section is already a clear example. When you look through the examples in this study you'll see bars with normal divisions in three or four (like the "Strictly Genteel" example, L.S.O. section) as well as bars with odd divisions and syncopes (like "It must be a camel", Hot rats section, and the "Eric Dolphy memorial party", Burnt weeny sandwich section). In the polyrhythmic "What will this evening bring me this morning" example (also included in the Burnt weeny sandwich section), the changing rhythm of the melody, sung over 4/4, is reflecting the lengths of the syllables of the words.
Zappa has frequently addressed to his rhythms as speech influenced, meaning that the rhythms aren't calculated, but following a free movement comparable to spoken language. Sometimes the speech influence is direct, when a melody is adapting its rhythm to the lyrics sung along with it. This is very recognizable in "Evelyn" from "One size fits all" and the live improvised recitatives "The dangerous kitchen" and "The jazz discharge panty hats" from "The man from Utopia", with the guitar part later added to it in the studio. Next is a sentence from "Wild Love" from "Sheik Yerbouti" (see also the disco section for this melody). The rhythm as well as the melody is influenced by the accents of the words.

Phrase from Wild love (transcription).

On paper Zappa's rhythms can sometimes look strange, but when you listen to them, they sound more natural. In the case of instrumental pieces and guitar solos the speech influence is indirect, as if the instruments are trying to talk to you without words.
1.1 Titties and beer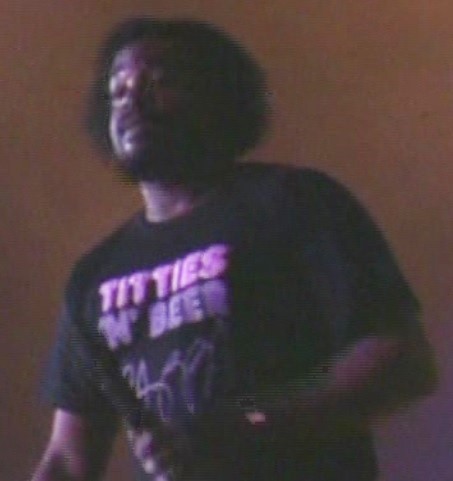 "Titties and beer" from "Zappa in New York" has a two bar rhythmic riff in F# Dorian, including the use of pauses. The first bar is on beat, the second syncopic. The second theme of the song is more melodic, using a chord progression in B Mixolydian.

Titties and beer (midi file).

Titties and beer (transcription).

This second theme thereafter turns into a vamp, that is played as accompaniment for the dialogue of a biker (Zappa) and the devil (Terry Bozzio). This was Zappa's usual way for recording pieces with monologues and dialogues, like the "Central scrutinizer" intro of "Joe's Garage", and much of "Thing-Fish". To the right: Ike Willis wearing the "Titties 'n' beer" T-shirt from the FZ/ZFT merchandise collection on stage (1988). Zappa and Terry Bozzio performed their routine for over a year, with another version appearing on "Baby snakes". It remained the same song with only some variation in the text. On ZFT releases it has appeared under a different title, "Chrissy puked twice".
1.2 Cruising for burgers
The double CD re-release more than compensated for the mutilated form Warner Bros. had released "Zappa in New York" as a double album in 1978. Not only "Punky's whips" could be included as intended, four tracks could be added as well. "Cruising for burgers" is an impressive instrumental version of this title, that first appeared on "Uncle Meat". See the corresponding section for two examples. Here it goes different in a number of manners and it includes a large solo. It might just as well have been called Cruising for burgers variations or Son of Cruising for burgers, as Zappa would sometimes do when he returned to a piece in a different jacket. The solo is in D Mixolydian and the accompaniment is using a vamp.
1.3 I promise not to come in your mouth
"I promise not to come in your mouth" is a sensitive instrumental ballad (Zappa's own words) in 6/4 in the key of C minor, introducing two short but fine solos. One by Zappa on guitar, the other just as strong by Eddie Jobson on keyboard. Its opening riff is an early example of so called hocketing, leading a melody over various instruments.
- Bar 1: in this bar, played four times, the melody is led over six staves. Because various notes are sustained, you get all sorts of harmonic combinations. He would apply this a lot in the later synclavier works.
- Bar 5: transitional bar with a bass lick and the keyboard improvising.
- Bars 6-7: a chord progression, Dm-F-G-Dm-G-Eb-Ebmaj7. The last chord is sustained for a bar with the keyboard improvising.
- Bars 8-10: second theme. The scale in bar 9 changes shortly to D minor. Again the ending chord is sustained for a bar, again with the keyboard improvising.
- Bars 11-12: variation upon the second theme. Its lead melody is the same, but the accompaniment, especially the ending chord, are different. This last chord is a larger chromatic chord.

I promise not to come in your mouth (midi file).

I promise not to come in your mouth (transcription).

The solos in the middle of this piece follow a modulation scheme. The set-up of the song goes as:

- 0:00 Main theme. See above.
- 0:54 Guitar solo begins in D Lydian.
- 1:10 C# Lydian.
- 1:18 F# Dorian (I-IV movement).
- 1:27 D Lydian.
- 1:43 C# Lydian.
- 1:52 F# Dorian.
- 2:00 Keyboard solo begins in A Dorian.
- 2:04 Bb Lydian.
- 2:08 B Dorian.
- 2:13 C Lydian.
- 2:17 C Dorian.
- 2:20 C# Lydian.
- 2:24 D Dorian.
- 2:29 Eb Mixolydian.
- 2:33 D Mixolydian.
- 2:49 C# Lydian.
- 2:57 F# Dorian.
- 3:05 Main theme returns.
- 3:32 End
In his discussion with me Brett Clement writes about the Mixolydian episodes: "I don't find any; seems pretty consistently Lydian/Dorian". Indeed Lydian and Dorian dominate, so I've checked this again:
- 2:29-2:33: Eb pedal with Eb-F-G-Ab-Bb-C-Db = Eb Mixolydian.
- 2:33-2:49: D-C, D-C-D etc. pedal alternation with D-E-F#-G-A-B-C = D Mixolydian.

"I promise not to come in your mouth" got renamed as "Läther" when Zappa was constructing his 4-record box with the same name. In 1977 this song got a supplemental coda as well. See the next section for this "Läther" coda.
1.4 Punky's whips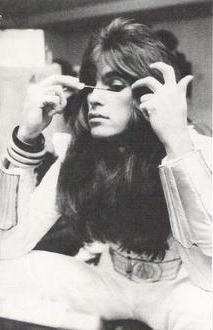 While unable to release "Punky's whips" as planned, Zappa included this title in his "Baby snakes" film, of which the soundtrack was released separately in 1983. It's from the Palladium concerts from the year following upon the "Zappa in New York" recordings. On these two releases "Baby snakes" has remained basically the same song, but there are differences at a detail level. See the next section for a transcription of the 1977 edition of its opening.
"Punky's whips" is mocking at Punky Meadows, lead guitar player from the glamrock band Angel. This band performed in all white suits, illuminating an androgynous appearance. Specifically Punky used it for attracting attention, with a publicity photo of himself with a voluptuous hairdo, kissing like a women. W. Bros, who also had financed the Casablanca label, that Angel had a contract with, became afraid of negative effects. After some copies of the original album had already reached the stores, W. Bros brought out a different version without this song. Punky Meadows himself saw the humor of it. In an article by Michael Little at www.washingtoncitypaper.com, May 2002, Punky commented: "I thought it was cool. Frank is very satirical, so you can't have a thin skin. I found it kind of flattering. Around the time he wrote the song, he was playing in L.A. He asked if I'd be willing to come onstage in my Angel costume and play with him on the song. I went to the concert, the curtain goes up, and there's this giant publicity photograph of me doing this pucker kind of thing. It was like Dean Martin's roast or something. Afterwards, Frank asked me to his place to drink some beer and play some tunes." To the right Punky in the dressing room in his Angel outfit.
1.5 Honey, don't you want a man like me?
"Honey, don't you want a man like me?" is available in three versions in Zappa's own catalogue and three more via the later ZFT releases. I've included examples from four versions in the YCDTOSA section, covering the time-span 1976-1988. Specifically the 1980 version is heavily re-arranged. The initial version is probably the one on "Joe's camouflage" from 1975, yet again going a bit differently.
1.6 The Illinois enema bandit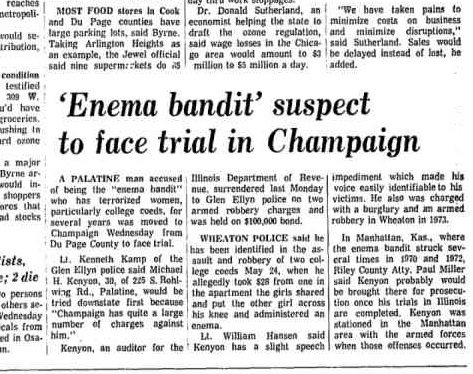 The lead melody from "The Illinois enema bandit" is present in the Ludwig study, page 269 (see the references). His transcribed section concerns the opening of this song, after the introduction by Zappa and Don Pardo (1:05 through 2:02). It's notated in 6/8 and played over a D pedal by the bass. The key thus is D Dorian.

The Illinois enema bandit, lead melody (transcription).

This transcription concerns the central theme. As you can see it's made up of a series of phrases, that are variations upon each other. As you can read in the liner notes, this song is based upon a true story, which Zappa filled in with a number of fictitious details from the trial. Roy Estrada, who gets mentioned at the end of the song, was the bass player on Joe's Camouflage when an early rehearsal version got recorded. Roy also portrayed the enema bandit on stage, wearing a ski-mask and an enema bag. The actual enema bandit was released from prison in 1981 and seems to be living rather anonymously ever since.

The Chicago Tribune, June 5, 1975, with an article about the "enema bandit".

Ray White, at some points singing the lyrics of this songs as fast as possible, comments in the "Zappa in New York Deluxe" booklet: "PS. The line at the end of The Illinois Bandit was supposed to be "Potato head Bobby" ... in my excitement, it came out "Mopato Tedded Bobby." I laughed, Frank laughed, and he left it on the record."
2.1 I'm the slime
"I'm the slime" and "Pound for a brown" are two more bonus tracks from the CD re-release. They are live versions of these titles, that were released earlier as studio recordings. An example from "I'm the slime" can be found in the corresponding Overnite sensation section of this study. For his December 1976 shows Zappa had invited Don Pardo, a TV announcer, best known from his decades of work for Saturday night live. Don was asked to act as a narrator for the show, doing for instance the intro for "Punky's whips" and part of the melt-down lyrics from "I'm the slime".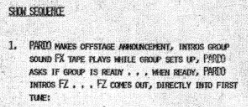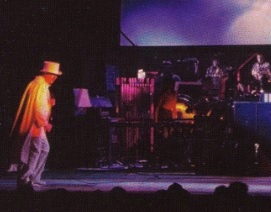 Parts of photos of the setlist for show 1 (with Don doing the introduction of the show) and Don on stage, as reproduced in the "Zappa in New York Deluxe" edition. The five photos on the CD sleeves all include samples of the video show on a huge background screen.
2.2 Pound for a brown
"Pound for a brown" stems from "Uncle meat", but gets dealt with in the Zappa's teens section from this study, when it was written. This title was part of almost every set-list Zappa played. Its main themes remained the same, but it did allow band members to solo. He had met the Brecker brothers at the Saturday night live show a month before. They enjoyed playing with Zappa that much, that they asked him if they could join in on the December concerts too. Zappa more than welcomed this, augmenting the band with a brass section. Specifically on the 5-CD Deluxe edition, many solos can be heard by these brass players.
2.3 Manx needs women
"And for our next number", to quote Zappa, a piece with irregular groupings from "Zappa in New York", called "Manx needs women". Other than the next track with irregular groupings, "The black page", this composition doesn't follow scales. It's atonal, full of dissonants and contains changing meters. The figures with irregular groupings in bars 1-4 are played in the form of parallel major 7ths. The opening bars in 4/4 are played slowly, followed by fast strings in 7/16. "Manx needs women" is one of the most aggressive pieces Zappa ever wrote, quite different from the friendly "I promise not to come in your mouth" or the traditional blues of "Big leg Emma".

Manx needs women, opening (midi file).

Manx needs women, opening (notes/transcription).

Zappa presented the lead melody of the opening from "Manx needs women" as an exercise in Guitar Player, January 1977. I used this example as the starting point for the example above. There are, however, some differences in the lead melody between the above Guitar player version, the "In New York" version and the "Philly '76" version. Zappa does this all the time and, from the analytical point of view, it has confused me a couple of times. You can come to a completely correct conclusion based upon one version. Then you encounter another version and it's not applicable anymore.





Bottom part of the "Manx needs women" example from Guitar Player in Zappa's handwriting.

Manx needs women (Philly '76), 0:08-0:16 (midi file).

Manx needs women, different appearances of the opening bars (notes/transcription).

This second example concerns the opening bars demonstrating this. There's little time between the three versions, nowadays available, so it remains peculiar to notice how frequently Zappa changed his compositions while being on the road.
- The example from Guitar Player has an 11-tuplet as a pick-up bar.
- The "Philly '76" version begins with series of synthesizer figures passing through high registers. Staff one contains squeaking descant notes, getting so high that you need a quindecima clef to notate them. It sounds really weird, and, as more often in Zappa's output, it's a one-time only experiment. It didn't reach an official album by Zappa himself, but it's on a ZFT release. At 0:08 the drummer joins in, at which point the example from above starts. It's only two bars, lasting through 0:16, but quite a lot is happening in it. As you can see the synthesizer figures are played as 10- and 11-tuplets. The pick-up bar from the Guitar Player example returns in a different shape, now a 9-tuplet with tuplets within tuplets. At two points you can hear a triplet within this 9-tuplet. It's played as a series of thirds with both minor and major thirds being used. The idea to use major 7ths apparently arose when mixing the Palladium concerts. The "Philly '76" version doesn't have the severe dissonant character as the first example from above has. Bar two contains a Gm chord, just as bar 1 from the Guitar Player example being sustained for one bar.
- In the "Zappa in New York" version the 11-tuplet returns in the shape of a 13-tuplet, to a large degree containing the same notes as the 11-tuplet. This last example stems from the study by Brett Clement, where he noted that this melody returns later on in this composition in a different rhythm (Brett calls this "isomelism"): "Isomelism often supports A-B-A form, or other formal schemes that approximate symmetry, in Zappa's music. "Manx Needs Women" (ECE 1976/1978a), for example, manifests a simple A-B-A' design, the A' section of which is heralded by an isomelic relation with the opening melodic gesture (Example 2.12). However, as can be seen in Example 2.12, the variation that opens A' is much more rhythmically distinct than the original melodic statement. In fact, the first presentation of the theme is performed so fast that it is doubtful that any listener will hear the isomelic relationship shown in the example. Instead, the isomelic technique reinforces the fact that both A and A' are composed in the hybrid style; therefore, the recapitulation not only restates a "main theme", but also recapitulates a stylistic category."
2.4 The black page drum solo/Black page #1
On "Zappa in New York" the 1976 band performed an instrumental piece full of irregular rhythmic groupings, called "The black page #1", originally a test piece for drummers, to see if they were able to beat this kind of rhythms, like:

The black page #1, bar 4 (notes).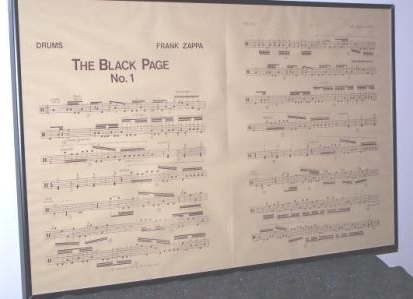 Thumbnail image of the drum part from The black page #1. See below for bars 1-5.

"The black page" is rhythmically as well as harmonically very irregular, but it also contains elements that bring stability to it:
- The meter is 4/4 throughout.
- The same scale is used at least for the duration of one bar.
- There's a tendency to alternate speeding up and slowing down.
- There's also a tendency to alternate rhythmically complicated figures with moments of a relative rhythmical calm.
- In some bars the melody from former bars is repeated.
The next example contains the two opening bars and bars 16 and 17 (1:53 till 2:00 and 2:52 till 3:00 on track 4 of disc two), where the rhythm of the first two bars, including triplets and a quintuplet, is exactly repeated by a different melody (in fact this goes for a longer period: bars 1-11 compared to bars 16-26). When you take the opening bass notes in these bars as key notes, the melody in these four bars is using:
bar 1: G Lydian
bar 2: B flat Lydian
bar 16: D Lydian
bar 17: G flat Lydian.
The earlier editions 1-3 of this study had an Eb for bar 17, but after relistening I had to correct this to a Gb (bar 18 does begin with Eb, moving to F). Something happening in Zappa's music very often is that little changes are made upon the score, mostly regarding the harmony. In this case the melody and its rhythm are carefully composed. No deviation was allowed as it comes to this aspect of the "Black page". Regarding the harmony and accompanying figures, things could change all the time. See also below at "The black page #2". Already during its live premiere, some changes were made:
- The sus2 chords from the score got skipped. Only the root notes are present as bass pedal notes. Instead of the sus2 chords you can hear some overdubbed harmonic fill-in in the background during the opening bars, played by Louanne Neil on harp.
- The marimba by Ruth Underwood is taking the lead. The keyboard and brass mostly play along, but sometimes they are also hitting some notes of their own, forming harmonies with the marimba part. See staff two of my transcription for the details during bars 16-17.
"The black page drum solo" has exactly the same rhythm as the "The black page #1". On the album Terry Bozzio's drum part is doubled by Ruth Underwood on percussion, probably overdubbed. She is using cowbells, that have vague pitches. So there is some implied melody present in "The black page drum solo" album version as well, here improvised by Ruth. Terry is doing some extra ticks on the hi-hat, that aren't prescribed, as if he is directing himself. The "Black page" and "Manx needs women" not only contain various forms of irregular groupings, but also examples of irregular groupings within irregular groupings. Bar 5 from the "Black page drum solo" example contains a triplet that gets subdivided into two quintuplets and one sextuplet. Bar 3 from "Manx needs women" shows a triplet within a quintuplet.

The black page #1, bars 1-2 (midi file).
The black page #1, bars 16-17 (midi file).
The black page drum solo, bars 1-5 (midi file).

The black page #1, bars 1-2 and 16-17 (notes).
The black page drum solo, bars 1-5 (notes).





Advertisement sample of the Black Page #1 score, including the above examples. Available at Barfko Swill.
The indicated 2-chords mostly aren't played that way on any Black page performance, only the root bass notes are taken over as pedal notes.

Bars from Can I help you with this dummy, Filthy habits, Yo' mama and Get whitey (notes/transcription).

These few other examples of irregular groupings, to be found in many Zappa compositions, are bars from four compositions from 1971 through circa 1990.
a) The first is one of the many parts of bar 27 of "Can I help with this dummy". This composition was intended for inclusion in the "200 Motels" soundtrack of 1971, but fell off due to performing difficulties. The complete orchestra score in Zappa's own handwriting is included in the The Frank Zappa Songbook Vol. I. It became included in the suite version of 200 motels and received its first performance during the Holland Festival of 2000 at the Carré theatre in Amsterdam.
b) Next is a bar from "Filthy habits" from "Sleep dirt" with a sextuplet. See the Sleep dirt section for more of this piece in the 1988 version.
c) A bar from "Yo' mama" with improvised irregular groupings. See also the Shut up 'n play yer guitar section.
d) A bar from "Get whitey". In the nineties Zappa would take irregular groupings into more extreme forms as in this synclavier composition. This by itself already odd 23-tuplet also has notes of unequal length within it. See the Synclavier #2 section for more.

When you're looking at all irregular rhythmic groupings in "The black page #1", and some other rhythmical aspects, you're getting at:

- Bar 1: normal, with some syncopes.
- Bar 2: triplets and a quintuplet.
- Bar 3: on beat.
- Bar 4: triplet, quintuplet and septuplets.
- Bar 5: quintuplets and a sextuplet within a triplet.
- Bar 6-7: normal, with some syncopes.
- Bar 8: quintuplets and a sextuplet within a triplet.
- Bar 9: a whole note.
- Bar 10: triplet and quintuplets.
- Bar 11: quintuplets.
- Bar 12: on beat.
- Bar 13: string of 32nd notes, still on beat.
- Bar 14: pauses and a repeating group of four 32nd notes.
- Bar 15: a septuplet and quintuplet within a triplet.





The notation of bar 15 in Keyboard magazine, Feb. 1987 (above), may cause some initial confusion how it should be read. When you compare it to the actual performance, it confirms it should be interpreted as:
a) 1st beat of the triplet: the first quarter note and the following two eighth notes (A-G#-F#).
b) 2nd beat of the triplet: the septuplet as 7 16th notes for two quarter notes (7:8 as 16th notes).
c) 3rd beat of the triplet: the four 16th notes plus the quintuplet.
About this bar Ruth Underwood writes in the "Zappa in New York Deluxe" booklet: "In measure 15, Frank's melody seems to break from the time, float briefly, collapse, and catapult towards measure 16, where it regains its footing. (I used to refer to it as the "falling down the stairs measure", and Frank would smile.)"
- Bar 16: normal, with some syncopes.
- Bar 17: triplets and a quintuplet.
- Bar 18: on beat.
- Bar 19: triplet, quintuplet and septuplets.
- Bar 20: quintuplets and a sextuplet within a triplet.
- Bar 21-22: normal, with some syncopes.
- Bar 23: quintuplets and a sextuplet within a triplet.
- Bar 24: a whole note.
- Bar 25: triplet and quintuplets.
- Bar 26: quintuplets.
- Bar 27: quituplets and 11-tuplets.
- Bar 28: triplet and a half note.
- Bar 29: quintuplets and a sextuplet within a triplet, followed by two more 11-tuplets.
- Bar 30: a whole note ends this composition.

As already mentioned bars 16-26 are using the same rhythmical figures as bars 1-11. One can also notice that the figure with two quintuplets and one sextuplet within a triplet is used five times. In fact most rhythmical figures have a tendency to return with the 11-tuplets being reserved for the end. Melodic similarities can also be discerned. Bars 19-22 are a repetition of bars 4-7. Bars 8 and 23 differ by only one note. Bars 24-25 are a transposition of bars 9-10, being a major second lower. While most people concentrate on the rhythm of "The black page", one might also look at the harmonies the subsequent notes of the melody are forming, next to the intervals being used. Then you also get an idea of Zappa's search for variation. In bar 1 you're soon getting at the 11th and 13th on top of G. The melody doesn't use the D during bar 1, but if you would play the Gsus2 chord from the score too, all notes from the G Lydian scale would be involved. The quintuplet from bar 2, on the other hand, could be seen as a Dm7 chord by itself (with a G as a passing note). The last four notes of the sextuplet from bar 6 are a stacking of fourths. The first septuplet from bar 4 involves only seconds, while the second lets notes jump around by using varying intervals. Etc.

Below to the right: the Ensemble Musikfabrik playing The black page, Muziekgebouw 't IJ, Amsterdam 2017. Their program for that venue set Varèse and Zappa next to each other. Varèse's Ionisation and Poème électronique were played along, among others, Echidna's arf (of you) and The black page.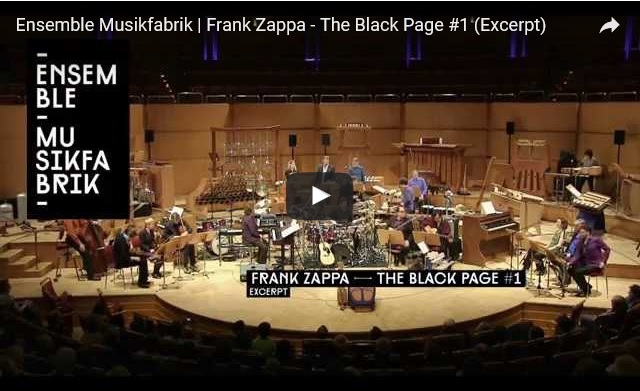 Zappa himself used the terms polyrhythms and rhythmic dissonance, rather than irregular rhythmic groupings. These words can be seen as synonyms. Irregular rhythmic groupings have a clear definition. It concerns any rhythmic relationship that isn't even. An odd-numbered figure over an even number or two different odd-numbered figures happening simultaneously. They are directly recognizable by their use of numbers in the note system. Triplets, 3:2 or simply 3, are a common irregular rhythmic grouping. Strictly by the meaning of the word, it can be argued that the term polyrhythms is wider than irregular rhythmic groupings. Two different rhythms, but even in their notation, could also be called polyrhythmic. In the mentioned study by Brett Clement (see the left menu for more) a smaller thesis can be found, calling rhythmic dissonance Zappa's trademark (set equal to irregular rhythmic groupings). The "Black page" is getting a lot of attention in this study. This thesis is correct in the meaning that Zappa uses such figures more than average. The Roxy section contains a table with all examples in my study containing irregular groupings, specified in the last column. My study is kind of boring as it comes to conclusions. There are no eye-openers in it as it comes to how Zappa composed. Personally I'd prefer to say that he just did anything as it comes to looking for rhythmic variety, with irregular rhythmic groupings as (only) one of his approaches. The Roxy section gives a brief overview.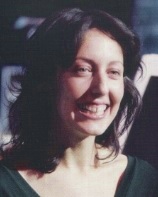 The "Black page" is usually played in the shape of version #2, easier to perform than version #1. The 2019 "Zappa in New York deluxe" edition contains piano performances by Tommy Mars of version #2 and Ruth Underwood of version #1 (to the left a photo of her from the CD booklet). Of importance is the synclavier execution of "The black page #1 (1987)" by Zappa himself, because it's handling the harmonies in quite a different manner. Two examples are included in the Jazz from hell section from this study, showing the use of parallels, countermelodies and a much higher degree of chromaticism. In the liner notes of "Zappa in New York Deluxe" Ruth Underwood is again commenting upon the presence of 2-chords, as she did before on the Overnite sensation/Apostrophe DVD. Zappa is indeed using sus2- and sus4-chords more than average and in the score example from above sus2-chords are prescribed systematically. Other types of diatonic chords are common in Zappa's music too:
- Triads are the standard chord in Western music and also in Zappa's music their presence exceeds other chord types. See for instance the "Village of the sun" score in his own handwriting (included in the Roxy and elsewhere section).
- 7th chords.
- 9th, 11th and 13th chords.
The last three chord types are uncommon, but Zappa loved their sound. See the Zoot allures section for more on this topic and the Shut up 'n play yer guitar section for me citing him saying that the fun doesn't start till you get at the 11th. Various people have tried to explain Zappa's music in musical terms or by comparisons with other composers, scholars and non-scholars alike. Some people even think this is the goal of musicology. When you hear Ruth talking about 2-chords, it looks like she belongs to this category, explaining that one should concentrate on sus2- and sus4-chords, being typical of Zappa. But is this really what she means? On the "Zappa in New York Deluxe" CD you can hear her playing a piano version of "The black page #1":

The black page #1, piano version, bars 20-25 (midi file).

The black page #1, piano version, bars 20-25 (notes/transcription).

- Bar 20: on top of G-D as a fifth an A7 chord is played (no 5th). The total harmony becomes an 11th chord on G (no 3rd, no 7th).
- Bar 21: Bbsus2 and the Bb triad.
- Bar 22: on top of G-D as a fifth an A major triad is played (with the C# from this triad coinciding with the C# Zappa notated for the lead melody). The total harmony becomes a 13th chord on G (no 3rd, no 7th).
- Bar 23: Bb-G as a fifth.
- Bar 24: Csus2.
- Bar 25: Csus2 and Gsus2 add 4.
So no, I don't think that's how she meant it. She liked the presence of 2-chords in Zappa's music and they are present in her piano version too. But her overall treatment of harmonies is in line with the findings of this study. One should always be careful about the context or the part that doesn't get mentioned. Otherwise you're both doing Ruth Underwood and Zappa's music injustice. This also goes for when you're quoting Zappa himself. It may look like you're safe doing so, but when you don't look at or don't mention what he's not referring to as well, you can easily get at a one-sided picture. Another thing one should realize is that maybe in pop music and traditional harmony sus2- and sus4-chords are uncommon, in modern music they aren't. Already Beethoven took steps to treat these chords as independent chords (see the bottom of the Zoot allures section from this study).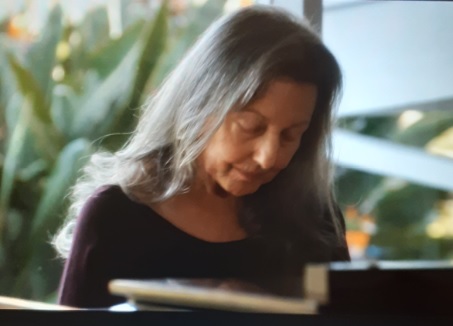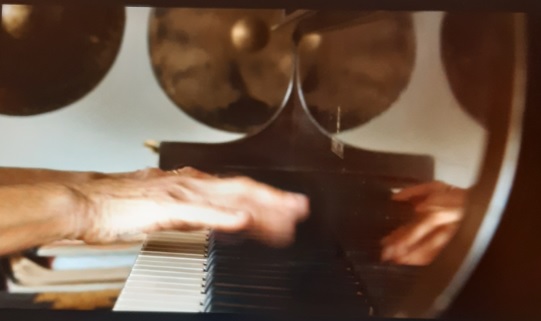 Ruth Underwood playing "The black page #1" (two stills from the Zappa documentary from 2020 by Alex Winter).

Below, and in other sections from this study, I'm continuing with "The black page #2".
2.5 Big leg Emma
"Big leg Emma" was originally released as a single in 1967. It flopped, so for about everybody living in this decade this live version must have been their first acquaintance with this song. Its blues scheme is briefly indicated in the Bongo fury section of this study and further worked out below. Since everybody can recognize such a scheme, it's the most accessible song on the album. After the little intro the 12-bars blues scheme is used for the verse, as well as two times for the instrumental interlude.

Big leg Emma, bars 1-8 (midi file).
Big leg Emma, 1:10-1:31 (midi file).

Big leg Emma, intro and verse (arr. FiftyII50).
Big leg Emma, 1:10-1:31 (transcription).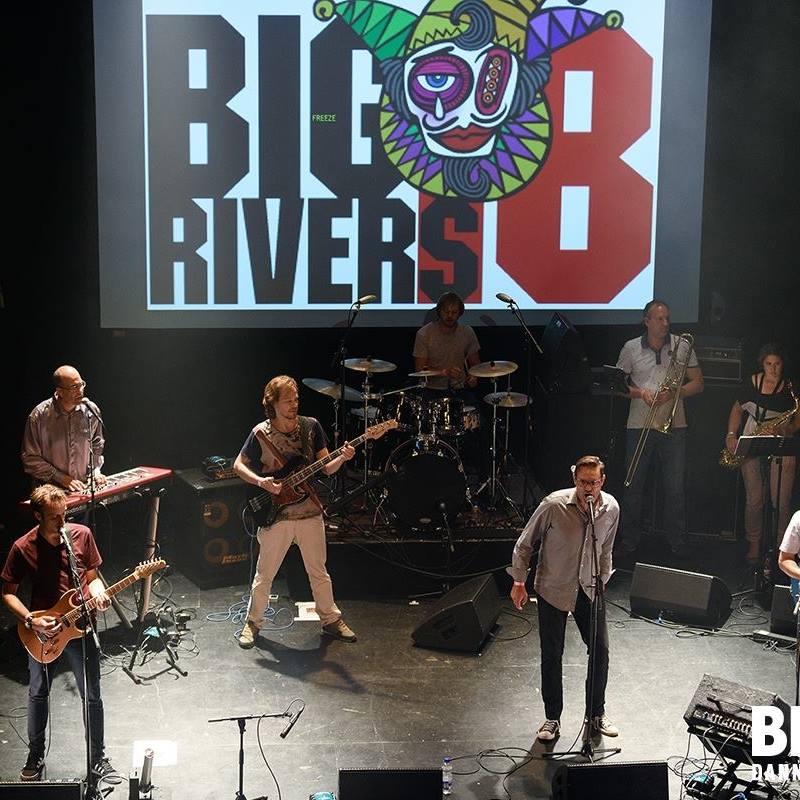 In 2018 Marcel Chrétien of the Zappa cover band FiftyII50 shared the material of the thirty-some titles his band is playing with me. Among them "Big leg Emma". The first example above is the opening of this song, following the arrangement for his band. The song can either be notated in 4/4, with triplets most of the time, or in 12/16. The second example is the second half of the instrumental interlude as played on "Zappa in New York". As has been commented upon at large in the Imaginary diseases section of this study, blues can be assigned to keys, though knowing an amount of freedom in its choice of chords being major or minor. This also goes for this title:
1st example:
- The four bars intro is a chord progression: B-A-E-F#m-G-F#m-E(-B). Apart from the G-chord, it follows E major.
The 12-bars blues scheme:
- Bars 5-8 upon I: E Dorian (sung part) and E Mixolydian (brass).
- Bars 9-10 upon IV, only the bass pedal note switches.
- Bars 11-12 upon I.
- Bar 13 upon V, using a B chord.
- Bar 14 upon IV.
- Bars 15-16 upon I, repeating bars 3-4 from the intro.
2nd example:
- Bars 1-4 upon I: E Mixolydian with chromatic passing notes.
- Bars 5-6 upon IV: the bass plays the G natural from E Dorian.
- Bars 7-8 upon I.
- Bar 9 upon V. Bars 9-12 are a return of the intro.
- Bar 10 upon IV.
- Bars 11-12 upon I.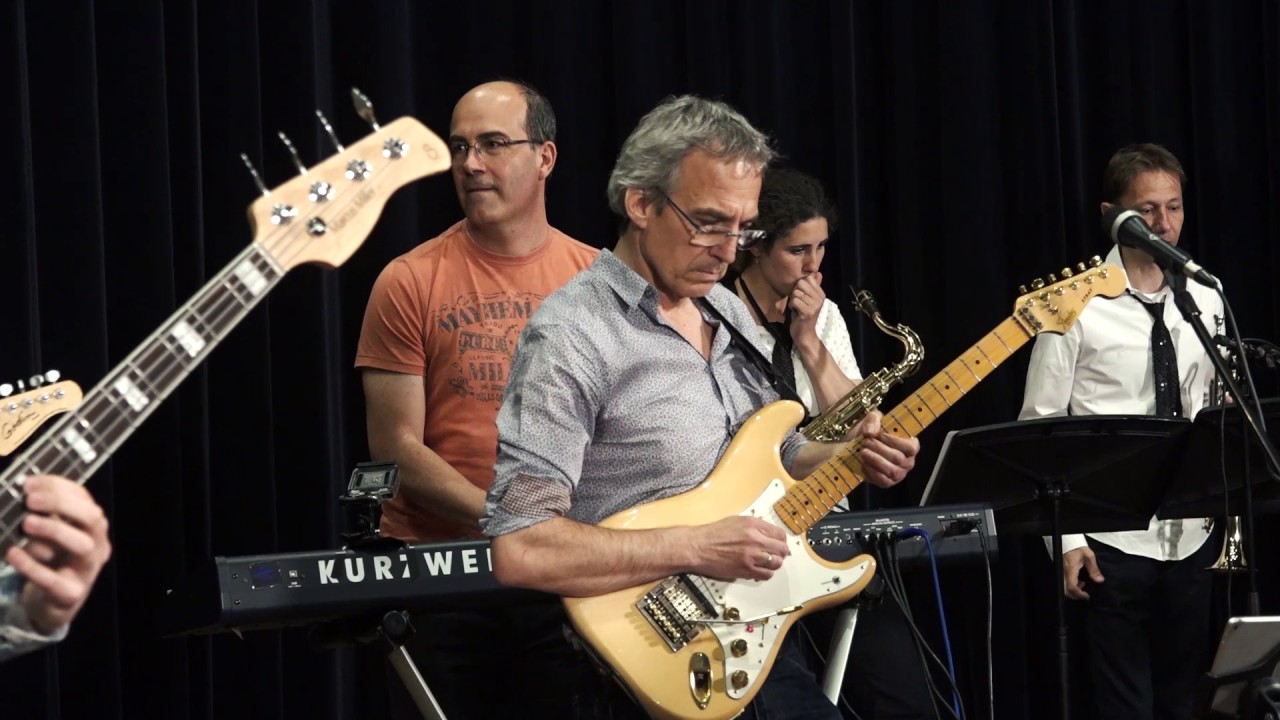 Above: photos of the Zappa cover band FiftyII50 playing live. You can visit www.fiftyii50.com for their program.
2.6 Sofa (1976)
"Sofa (1976)" is the live version of "Sofa no. 1" from "One size fits all". In the album's liner notes Zappa continues with saying: "Since that album was not very popular, this presentation might guide a few curious listeners back in that direction to check it out." While he had praised W. Bros. earlier for their promotion of "Apostrophe (')", things had turned around in 1976. During the intro of "Sofa" and "Irate phone calls" as on the Deluxe edition (see below), Zappa is commenting on this item. A smaller section from the interlude of this specific Zappa in New York version is included in the Weasels ripped my flesh section of this study. "Sofa no. 2" can be found in the Playground psychotics and One size fits all sections.
2.7 The black page #2
Irregular as the rhythms and harmonies of "The black page" may be, the constant factors in it make it inducive for applying other arrangements. These elements are the constant 4/4 basis all through and the fact that everything is diatonic. There are some bars with too few notes in them to positively identify a scale, but when this can be done, all bars are in Lydian. You've got different pedal notes per bar or couple of bars that quite clearly set the key notes of the varying Lydian scales. These stable attributes make it possible to change the character of the piece by modifying the 4/4 accompaniment. With the exception of a synclavier execution, a bonus as a flexi single coming along with a Guitar Player issue, Zappa returned to "The black page" in the shape of version #2 for doing so. The reason was probably that this version was less dense, so that the audience might more easily grasp the idea behind it. Three other examples of such versions of "The black page" are included in this study:

- "The black page #2": the disco version from "Zappa in New York". Its opening is described in the Sheik Yerbouti section.
- "The black page (1984)": the fast reggae or ska version. The opening bars are presented in the YCDTOSA section.
- "The black page (new age version)": a pretty much re-arranged jazz version from the 1987 tour.

Ruth comments about this aspect of "The black page" in the "Zappa in New York Deluxe" booklet: "The Black page has proven to be one of Frank Zappa's most intriguing and enduring compositions. It is performed in many kind of venues all over the world. It is taught and studied in schools. Perhaps most exciting is that it is adaptable and lends itself to a variety of orchestrations and re-workings, as FZ himself demonstrated. I am proud that after forty years, mine is finally among them [the piano version from above]. It is my love letter to Frank and Gail."
The essay by James Borders in Expression in pop-rock music (see the literature list) gives a personal estimation of how the "Black page" evolved through Zappa's career. On page 148 you can find a couple of bars with a comparison between "The black page #1" and "#2", as the following corresponding bars: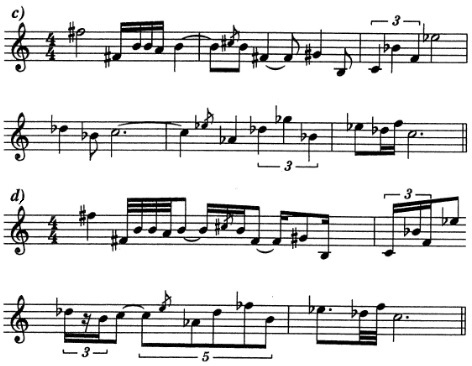 c) The black page #2, bars 50-55.
d) The black page #1, bars 16-18.

Most notes values have been augmented: dotted and/or doubled or quadrupled (which is why "The black page #2" has that many more bars). The more complicated rhythmical figures have been replaced by regular ones. In this case the notes from the quintuplet have been substituted by standard quarter notes and quarter notes within a triplet. See the Sheik Yerbouti section for more. With these scores unavailable to the general public, such examples come in handy. It did entice me to check my 1987 New age version example again and get rid of an error.
2.8 The torture never stops
Several sections from different versions of "The torture never stops" turn up elsewhere in this study. The Zoot allures section gives an overview. It's the last one of the four bonus tracks. As it comes to the sections with lyrics, most live versions of "The torture never stops" are performed largely the same, so it's the included solos that make them interesting. Other than on the original album version, Zappa always played a larger solo during this title live.
2.9 The purple lagoon/Approximate
For the Palladium concerts Zappa returned to his 1974 composition "Approximate" in a quite different shape. Here he made use of a second "Approximate" sheet he had written, that only in some bars goes similar to the 1974 version. It's presented below. What you hear on "Zappa in New York" is yet another version of "Approximate", namely a combination of bars taken from the 1974 version and this second sheet as well as some bars of its own. The second half of the 2nd sheet went unused for the album version. This section of the 2nd sheet includes bar 20 with irregular rhythmic groupings and gets played below in the midi file. To make things in this complex composition even more untraceable, the album version gets preceded by and partly played over a bass theme, called "The purple lagoon".

The purple lagoon/Approximate, theme (midi file).
Approximate 2nd sheet, second half (midi file).

The purple lagoon/Approximate, theme (transcription).
Approximate 2nd sheet (notes).

Whereas the three Halloween concerts at the Felt Forum where done with the five piece band of 1976, for the four Palladium concerts in the last week of 1976 Zappa augmented the band to 12 members, adding a brass section and two percussionists. Five people get a chance to play a solo on "The purple lagoon", including Zappa himself, who added a studio guitar solo to the live tracks. The others are doing fine, just for the fact that they don't get outplayed by Zappa. To promote these extra concerts, the band appeared on the Saturday Night Live show. "The purple lagoon" was played that night as well. Apart from some instrumentational differences, the notable divergence between the two executions is that the bass during the Saturday Night Live performance doesn't fade out at the end as in the transcription above, but returns to the "Purple lagoon" theme one more time. This happens at bar 9 in the transcription, thus not coinciding with the repetition of bars 1-3 of the "Approximate" theme. The combinations of bars ("The purple lagoon" versus "Approximate") herewith becomes different. Maybe the two Saturday Night Live shows Zappa did, will be available one day via a ZFT release. You can get them via other channels, but I'm not sure if they are legal. Why the bass at the end of the above midi file example is drawing back is by itself not clear. For playing this part separately it sounds more complete in the Saturday Night Live version. A possible reason can be that the bass didn't pause here during the actual life performance, but that Zappa mixed it out for some bars to let it be able to re-enter in another manner for the solo part. This solo part sets off with everybody well into it right away. Probably Zappa skipped the introductory bars and a pause in the bass line, the bars before, avoids a caesura to become too big. On Saturday Night Live the solo part begins with Terry Bozzio playing several drum bars, while John Belushi enters as a deranged be-bop singer.
The 2019 5-CD Deluxe version of "Zappa in New York" by the ZFT contains "The purple lagoon" combined with what would become the chorus from "Any kind of pain". The latter song got released by Zappa himself more than a decade later "Broadway the hard way" (see the corresponding section for a description)". Zappa introduces it as a make up for John Belushi not being present during these concerts. Stylistically the diatonic "Any kind of pain" theme is totally unrelated to the atonal frenzy of "The purple lagoon/Approximate". These blocks get separated by a few bars of drum soloing.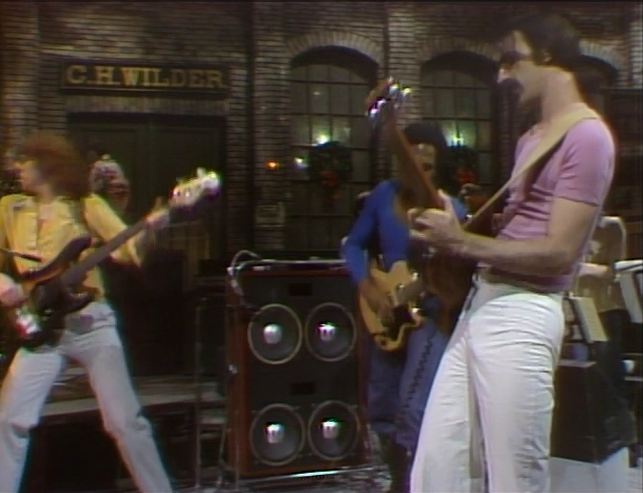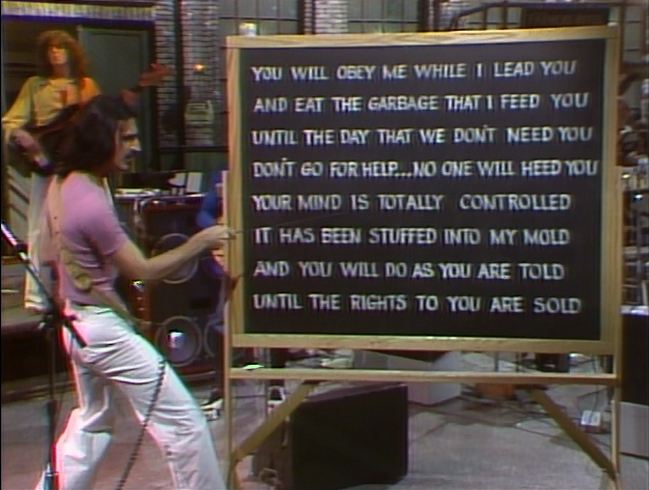 Two screenshots from Zappa's appearance at Saturday Night Live, 1976. To the right part of the lyrics from "I'm the slime" on a school board. Copies circulate, whether legal or not. The DVD "Live transmissions" is apparently derived from an amateur video copy, but it does give an impression of what happened. Hopefully material like this will be available one day with the sound quality of the original broadcast.
ZAPPA IN NEW YORK, DELUXE EDITION
The 2019 "Zappa in New York" 40th anniversary Deluxe edition by the ZFT contains quite some more material from the five concerts, held between December 26-29th 1976. Apart from many alternative recordings, you can find the following titles, additional to the above:
- Peaches en Regalia.
- Penis dimension.
- Montana.
- America drinks (with half of it being newly composed).
- Find her finer (with Gail on stage, taking photos).
- Black napkins (with up to half an hour of soloing).
- Dinah-Moe humm.
The purple lagoon (12-29-76): Be-bop tango section
Of interest are also a number of tracks with Zappa, and occasionally Don Pardo, addressing themselves to the audience. Among them "Jazz Buffs and Buff-etts", where Zappa is explaining what's going to happen in the next song:
"... Now it's time for a song called "The purple lagoon". This is for all the jazz Buffs and Buff-etts in the audience. You'll note that in the middle of this, there are going to be some jazz-type solos, played by various members of our wonderful New York finest horn section, ladies and gentlemen, and, as if that weren't enough, there will be a luxuriant punk-rock type avant-garde bass solo by Patrick O'Hearn. But, the crowning moment of this song will be when Ruth Underwood has the audacity to play the melody of the "Be-bop tango" on top of a vamp ... I knew we had be-bop tango fans in New York ... all right ... I always knew I could write an unforgettable melody, that's one of them for sure ... anybody who can humm along with the "Be-bop tango" just go and get yourself hospitalized right after the show. She's not only going to play the melody to the "Be-bop tango", but she's going to do it against the vamp from the ... from "Pound for a brown", which we're going to insert in the middle of sort of a uh, musical chairs, thank you, you know what I mean."

Be-bop tango section from The purple lagoon (12-29-76), 12:57-13:25 (midi file).

Be-bop tango section from The purple lagoon (12-29-76), 12:57-13:23 (transcription).

When I heard this before ever hearing what would be going to be played next, I fell into disbelief. The original "Be-bop tango" is in 4/4, rhythmically complicated with irregular rhythmic groupings, while "Pound for a brown" is in 7/8. You can hardly play these two pieces on top of each other like that other than on a computer, nor would it be functional. But that's not what's happening during this part of the song. The vamp is indeed in 7/8, not literally the "Pound for a brown" vamp we're used to, but a variant of it. The vamp itself is in B minor/Phrygian, with figures on B, E and G. Bars 1-11 and 16-17 from the example above are over a B pedal with the overall harmony of the vamp being Bm7. Bars 12-15 are on top of E with the harmonies only faintly audible. The G pedal bars first turn up at 13:49. The "Be-bop tango" melody itself is chromatic, but gets pushed towards a more diatonic environment like this. This 1976 "Be-bop tango" melody isn't the literal 1974 score, but an adapted version, so that it fits better into a 7/8 meter. Most notes of the 1974 melody return, but it's the rhythm that only roughly resembles the 1974 score. See the "Be-bop tango (1974)" from the Roxy and elsewhere section of this study for the original score. Much of it is re-arranged in such a manner that its beats can coincide with a 7/8 meter. Bars 9-10 are inserted, probably improvised by Ruth. So stylistically it's not really a tango anymore, strictly speaking. It's a true new version of this melody, shining yet another different light upon this composition.
The total "The purple lagoon" structure from the 12-29-76 performance again shows a different treatment of this composition. After the atonal main theme it jumps overnight into the "Pound for a brown" vamp (as we know it since "Uncle meat"), with the jazz-type of soloing starting. About half of these solos went into the original "Zappa in New York" album mix. Zappa's own guitar solo was inserted in the studio, as indicated on the album sleeve/CD liner notes.