Frank Zappa (1940-1993) is an American composer, whose work is characterized by a high degree of diversity and creativity. His output of over 60 CDs covers about all styles of the 20th century as rock, doo-wop and jazz as well as modern works for ensembles and orchestras. He also worked as a filmmaker and has a reputation as a critic of American society. After his early death due to prostate cancer, his legacy is governed by a family trust.
Early years (1958-1961)
Singles (1962-1964)
First line-up of The Mothers Of Invention (1965-1968)
Uncle Meat - Weasels ripped my flesh (1968-1969)
Comedy shows and 200 Motels (1970-1971)
Jazz (1972)
The Roxy band (1973-1975)
Zoot allures - Zappa in New York (1976-1978)
Sheik Yerbouti - You are what you is (1979-1981)
Orchestral works, chamber music and modern rock (1982-1984)
The synclavier (1984-1986)
The final tour and the tape vault (1987-1990)
The late works (1991-1993)
Conclusion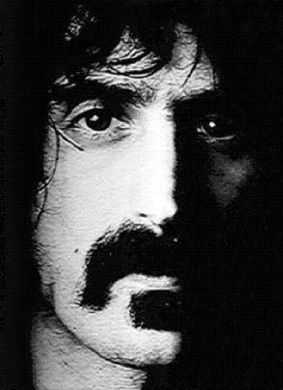 What's new?
CDs and scores
DVDs and movies
Zappa plays Zappa
& Miscellaneous items
On the shelves
Ensemble Modern
Links and
literature
FZ Quotes
Live recordings &
Beat the boots
The Lydian theory
by Brett Clement
Wolfgang Ludwig's
study
E-mail,
order copies,
corrections
Copyright - Warning
Various items
Zappa photo downloaded, source unknown.
Below are some score examples.